Reiki - Reflexology Treatment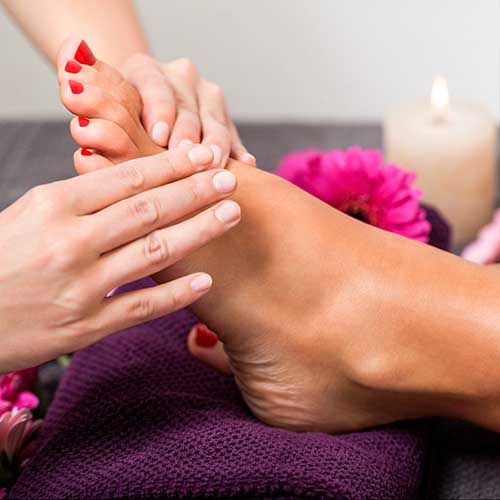 Reiki Reflexology is a holistic treatment that benefits not only the physical body but also the mind and emotions and mental well- being. It works to re- balance the whole body by massaging specific reflex points on the feet that are connected by energy pathways (meridians) to every organ and system in the body. The different parts of the body have a corresponding reflex area in the feet and by applying pressure with massage to these areas on the feet, it will open up the energy pathways and have a beneficial effect in the corresponding parts of the body .Although it is the feet that receive direct contact, it is not just a simple foot massage, it also has the capacity to create a deep meditative state of being, relieve stress and built up tensions . Combined with Reiki energy healing, it will stimulate a healing response throughout the whole body, physically, emotionally and mentally.
What To Expect In a Reflexology Treatment.
On your first visit, I will ask you some questions about your general well being and what your intention is for the session or what brought you in for the treatment. This allows both of us to establish a focused healing treatment. Then after cleansing the feet, I will begin the treatment with a warming foot massage followed with specific acupressure massage of the reflex areas of the feet. I incorporate essential oil blends from the Moonspirit Collection of aroma-therapeutic skincare into the treatment to help balance the mood and emotions and increase the healing experience, Once a deep state of relaxation is achieved after the reflexology session has been completed, I will follow with Reiki energy healing, covering the seven main chakras( energy centres) of the body. As you relax deeply, your body will draw on this healing energy, releasing built up tensions and stored negative emotions .Once that energy is released, the body can start to heal itself.
Some clients will feel immediate relief (for example , shoulder tension is released) whilst others notice changes in their symptoms a few days later. Some may feel tired at first whilst others often feel an energetic boost.
If you have certain conditions to work on, it is recommended to have approximately 6 consecutive weekly treatments. Alternatively, monthly treatments are a wonderful way to maintain well-being or pick up on any imbalances as they occur.
The synergy of Reiki healing and Reflexology expands the benefits of alleviating stress and tension, it can work on a deep and profound level, restoring balance, health and well- being.
How Can Reiki – Reflexology Help You ?
60 minute Treatment . Full reflexology session with Reiki Healing 40 €
Playa Honda, Arrecife, Lanzarote